Discover the difference at FNB!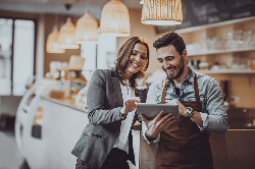 Many of our customers who have switched to FNB tell us that their online banking experience here is superior to that of their previous bank. Our FirstNetTeller platform combines online and mobile resources to give you easy access anytime, anywhere. Upon log-in you will see a summary of your accounts, loans with the balances. From there you may:
Transfer funds between accounts

Review your transactions including: debit card, electronic, deposits and checks

View or print images of paid checks (if the check's image is available) 

View and print previous month's bank statements

Make loan payments to FNB loans

Send a message to the bank via your FirstNetTeller account
The Online Banking features of FirstNetTeller  described above are absolutely FREE. 



Enroll online for Online Banking or come in to a FNB Office near you. 
Online Bill Pay 
Simplify your life with our Online Bill Pay service available through FirstNetTeller. Imagine! No checks to write, no envelopes to address, no postage stamps, and no trips to the mail box or post office.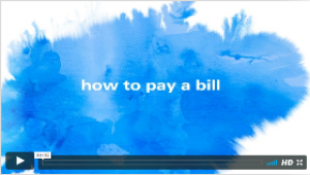 Watch the 4 video tutorials that detail the easy steps to use Online Bill Pay. Once you've entered the information about your payees, then paying your monthly bills requires only a few clicks and keystrokes. You simply go online, select the payee, and enter the amount to pay. Your bill payments will be made from your designated checking account. 
Online Bill Pay service allows you to: 
Pay any person or business in the United States (Excluding government or court ordered payments)

Establish reoccurring weekly, semi-monthly or monthly payments

Make one-time payments

Change or cancel your scheduled payments
Online access to an organized record of all your previous payments

With absolutely no fees for your first 25 bill payments per month, Online Bill Pay simply saves you money. The fee is only 50 cents per bill paid if you exceed 25 online payments per month. That's less than the combined cost of checks, stamps and envelopes. 
Enroll online or in person at any FNB Office.
If you are already enrolled in Online Bill Pay simply log-in (via the Login button above) to take advantage of the service. 
Here's what you can expect with the Online Bill Pay service: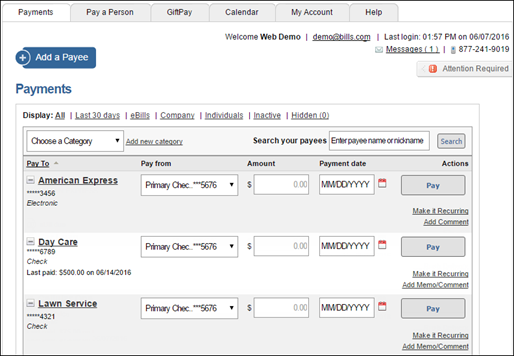 If you need to add a new payee, just select the "Add a Payee" button at the top of your dashboard.

For more information about adding payees and scheduling payments, go to the "Help" tab.
Your Online Bill Pay features a dashboard (see graphic) which allows you to view payees, upcoming bills, payment history and account balances at a glance.
Here is how easy it is to make a payment:

(Opens in a new Window) below and read on for further details.Your upgraded Online Bill Pay features a new dashboard (see image below) which allows you to view payees, upcoming bills, payment history and account balances at a glance. Here is how easy it is to make a payment.
Login to your account using the Login button above.

Click the "Bill Pay" link

Find your payee

Enter the payment amount and date

Click "Submit"

Feel free to call us at 870-215-4000 or come in for more information. 
First Anywhere Banking App 
The First Anywhere mobile banking app lets you bank anytime, anywhere, right from your mobile device (iPhone or Android).  It's so easy to use and there is no bank fee for the app or the service. First Anywhere app users should be enrolled in our FirstNetTeller online banking service in order to use the app.

The app allows FirstNetTeller users to handle all of your accounts from the convenience of your mobile device. Check your balance, transfer funds between accounts, view transactions, pay a bill, pay a friend, make mobile deposits and more.  Once established with the bank and on your phone, you may log-in with: touch ID, face ID or a passcode.  IPhone or Android versions are available.  Download the iPhone version from the App Store. Android phone users will find our app in Google Play. In either store search "First Anywhere" and look for our familiar 1st  logo as seen here. 
See the links below to find  and download the latest version of our First Anywhere App for your device.   
Apple App Store link to First Anywhere
Google Play Store link to First  Anywhere

You may also scan this QR code with your phone's camera to find the First Anywhere app in your app store. 
Mobile Check Deposit 

Our Mobile Check Deposit service can also be made available on your smartphone. Once you have downloaded the FirstMobile app to your smartphone and have logged in on the app, you can then request Mobile Check Deposit by simply clicking the field: "Deposit Check".  You should then receive a notification on your phone that you have submitted a request for Mobile Check Deposit.  There is no fee to add or use the Mobile Check Deposit service.  
Mobile Check Deposit is subject to bank review and approval. Call our Online Banking Department at 870-215-4000 during banking hours should any questions arise. 
FNB Text Banking 
Log-in to FirstNetTeller (online banking) system using your user ID and password.

Select the "Options" tab.

Under the Options tab check on the words "Mobile Settings" then select "Text Mobile Settings".

Once inside the Mobile setting tab, check the box marked "Enable text access for your mobile device".

Enter the phone number of the mobile device you will be using.

Select your wireless provider from the list box provided.

Select the accounts you desire to access through FirstMobile.

You will receive a text message to your mobile device from FirstMobile saying "Thank You" and telling you the basic instructions and commands to use for text banking. The access number for our Text banking is 89549.
Basic commands are BAL for your current account balance and HIST for recent transaction history.