Add Mobile Wallet to your smartphone
Debit cards and smart phones have both made our lives easier.  Now you can provision your FNB Debit Mastercard  to work with your smart phone for a new level of convenience when paying for purchases. Plus you will benefit from a touchless purchasing experience at the checkout.  Please read on!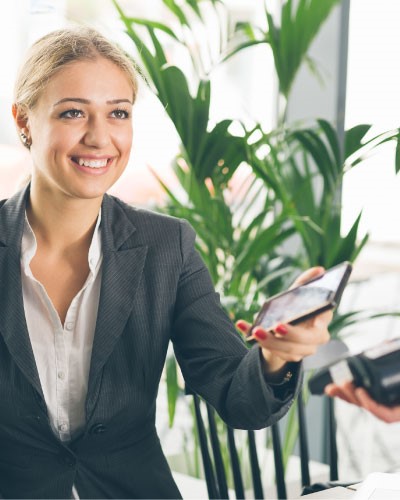 The big three digital wallet (also know as "Mobile Wallet") apps are: Apple Pay, Google Pay, and Samsung Pay.  Many Apple phones use the "Wallet" app which is pre-installed.  Other smartphones may require download of a digital wallet app from: App Store, Google Play or the phone's specified app marketplace. 
Whichever Mobile Wallet app you may use, you will appreciate the convenience, security and accountability it provides when paying for your purchases.  
Card information is never stored on your device or shared with the merchant.
Fingerprint or Passcode authentication ensures you are the only person using mobile wallet.
Real time notifications and details for your mobile wallet purchases are provided.
Once you have provisioned your FNB Debit Mastercard to your phone's Mobile Wallet app, then you may make purchases with just your phone, anywhere your Mobile Wallet's app is accepted as a payment option.  Your actual FNB Debit card need not be present during a Mobile Wallet transaction. 
It's so easy to make a purchase using your phone's Mobile Wallet app.  Your payment will be made after you authorize the transaction on the app with your passcode (or fingerprint if enabled), then complete the transaction by placing your phone within a few centimeters of the payment reader device.  
The links below provide details on how to provision your smartphone with the Mobile Wallet app of your choice.
Thank you for banking with FNB!