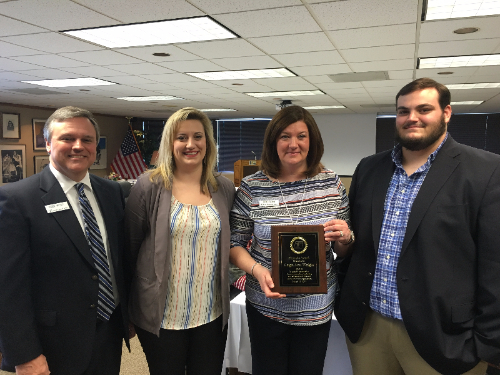 March 2017, Shareholders meeting of First Paragould Bankshares, Paragould, AR (First National Bank) - First National Bank Chairman William E. Brewer and President Donald Guinn awarded Leigh Ann Wright the first-ever Pinnacle Award on Tuesday morning. She was honored for 32 years of service and dedication to the growth and success of First National Bank. Wright supervises 101 of the bank's 209 employees while her department processed over 1 million transactions in 2016.
Wright began working at First National Bank in October of 1985 and has worked in various positions around the organization during that time period. She has been an integral part of several milestones at the bank including expansion to Northwest Arkansas and Heber Springs. "Leigh Ann is a leader and a vital part to this organization and her team makes the hard work they do look easy," said Guinn prior to presenting the award, "There couldn't be a better person to get this award for the first time."
Wright is married to Ronnie Wright and has two children, Allison Hestand and Tyler Hestand, both were present for the award presentation.
First National Bank was founded in 1889 and currently has 14 locations across Arkansas.