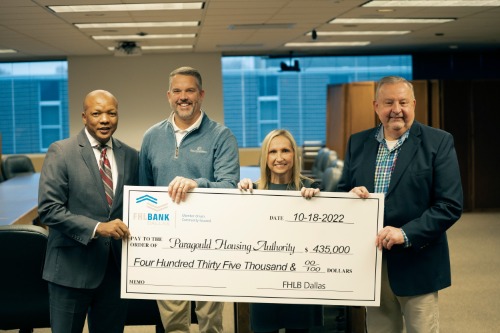 PARAGOULD, AR (12/5/2022) – The Paragould Housing Authority accepted a subsidy from the Federal Home Loan Bank of Dallas (FHLB Dallas) that will propel funding for an elderly housing unit development.
FHLB Dallas awarded $435,000 to the organization that will be added to funds on-hand to continue and finish 48 housing units for the underserved population. "We have about a two-year waiting list in our elderly population to get them housed in affordable, safe, and sanitary homes," said Paragould Housing Authority Executive Director David Lange.
The money comes from a pool of funds available for FHLB Dallas to use for AHP awards. From that, 26 projects received funding, the Paragould Housing Authority being one of those. "The most important thing is having a housing authority (or community) organization that cares about their community," said Bruce Hatton, Affordable Housing Manager at FHLB Dallas, "When you think about the elderly population, things are changing. They need a safe, affordable, and decent housing for a place to live."
All funds from this grant will stay in Paragould. "We are constructing these (units) in the northern part of the city at Goldsmith and Rector Road," Lange said. Construction on this project will begin soon.
First National Bank is a partner of both FHLB and Paragould Housing Authority and assisted in facilitating contact for this grant to be awarded. "It's important for First National Bank to partner with organizations like the Paragould Housing Authority to help them serve and better our community and our at-risk and underserved populations," said First National Bank Chief Banking Officer Bobby Kasserman. "This wouldn't be possible without First National Bank," said Hatton, "They are a great partner, and we are grateful for this opportunity."
"David Lange and his staff are an asset to Paragould and the people they serve," said Kasserman, "We are happy to be a small part of this."
For more information on the services provided by the Paragould Housing Authority, visit paragouldhousing.org.