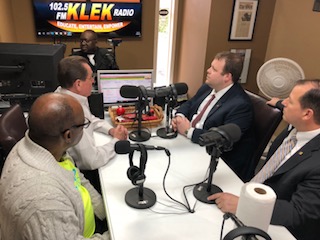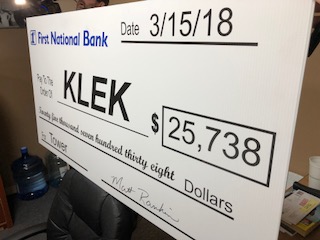 JONESBORO, AR (3/28/2018) - Jonesboro non-profit radio station KLEK-FM will soon beable to widen its listening audience, thanks to a more than $25,000 donation from First National Bank.
The radio station is owned and operated by the Voice of Arkansas Minority Advocacy Council.
Earlier this year, KLEK began fundraising efforts to purchase a 100-foot tower to strengthen their signal. LaGanzie Kale, manager and owner of KLEK, approached Jonesboro Mayor Harold Perrin about securing sponsors for the tower.
Perrin told Kale that his work in building the station from scratch, using volunteers and serving not just the minority community but all of Jonesboro, has proven his commitment.
Mayor Perrin then reached out to First National Bank Vice Chairman Will Brewer, who quickly offered to fund the project.
"It's very heartening to me for him to just say that that quick because he realizes the community is a winner," Mayor Perrin said Wednesday.
Right now, KLEK's tower is just 42 feet tall. With the $25,738 donation, KLEK will be able to erect a 100-foot tower and strengthen the station's signal.
"This is touching to me, and I can't express how grateful I am to First National Bank," said Kale.
Brewer said KLEK was simply an ideal and deserving recipient.
"We are just proud to be a part of what KLEK is doing for Jonesboro," Brewer said.
Matt Rankin, community bank president of First National Bank in Jonesboro, signed and presented the check worth $25,738.
"Anytime we can be a good community partner, we're proud to give," Rankin said. "And KLEK fits the bill perfectly."
Once the new tower is erected, Kale said he plans to donate his current tower to another radio station, in order to help someone else the way First National Bank helped them.