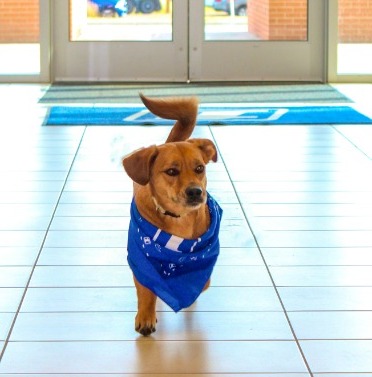 Jonesboro, AR (11/18/2022) – First National Bank announced on Friday the addition of the financial institution's first-ever "First Dog". Zuzu Allen has agreed in principle to serve in the inaugural role that has broken the barrier for dogs to enter the financial services industry in leadership positions.
Zuzu will be compensated for her work with 4 bones a week, subject to change/approval of her veterinary advisors. Her duties will include lightening the mood of bank employees and customers by wearing marketing approved apparel and wagging her tail in appearances in any of the First National Bank's 23 locations in Arkansas and Tennessee. "This is a huge day for First National Bank, our staff and our customers," said First National Bank's Blake Guinn, "Zuzu is a great addition to our marketing team. We are proud to be a leader in our industry by employing one of the first canines in banking industry."
This deal is subject to regulatory approval. "We do have some concerns that our examiners may be worried about our customers' and staff's ability to conduct business with such an intimidating, yet cute presence around our bank," said Guinn, "We are confident an agreement can be reached with our regulators to make this deal work."
First National Bank has seen many firsts over the last few years. These include expansion outside of the bank's footprint in Northeast Arkansas to Central Arkansas, Northwest Arkansas, and Tennessee, re-naming Arkansas State's Convocation Center to First National Bank Arena, the completion of First National Financial Park, and now the bank's first-ever, First Dog. "This is a landmark deal," said Guinn, "We are a little concerned about alienating cat-people with this announcement but banking is never risk-free and so we are excited about this decision."
Zuzu is expected to begin making select appearances at bank functions soon. For more information and to keep up with Zuzu, follow First National Bank on Facebook, Instagram, and Twitter. You can also keep up with the latest bank news by visiting fnbank.net.
First National Bank has 23 locations in Arkansas and Tennessee and offers signature You 1st Banking service to its customers. Anywhere.