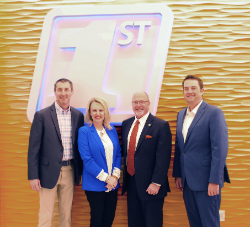 Jonesboro, AR (3/23/2023) – First National Bank has agreed to purchase multiple safety cameras around the city to help increase safety and crime prevention in the city of Jonesboro.
The cameras will be used to monitor traffic situations, prevent crime, and allow Jonesboro's emergency responders to have up-to-date and crucial information when responding to calls.
"This is a great example of how civic partnerships make Jonesboro safer for all residents," Jonesboro Mayor Harold Copenhaver said. "When I reached out to our local banks, it was contributions like First National Bank's that really confirmed to me that our entire community wants and needs this."
First National Bank will donate $15,000 to the City of Jonesboro over the next 5 years. The $75,000 total contribution will be used to purchase the cameras and allow for maintenance and support for them once they are installed.
"The safety of our local communities directly impacts the safety of our bank customers and staff," said First National Bank's Blake Guinn, "The technology that is available with these cameras coupled with the skilled E-911 team in Jonesboro will provide an extra layer of protection for law enforcement and citizens."
First National Bank was founded in 1889 and entered the Jonesboro, Arkansas market in 1998. The bank has three Craighead County locations. For more information on our signature You 1st Banking service, visit our website: fnbank.net.