First National Bank chairman receives Lifetime Achievement Award
(9/21/2021) - First National Bank Chairman Bill Brewer was awarded the Lifetime Achievement Award from the Paragould Chamber of Commerce on Tuesday, September 21. The award recognizes exceptional service and dedication to Paragould.
Mr. Brewer grew up in Paragould and has spent his life working and living in the area. "I haven't lived here my entire life. Hopefully I've got a few more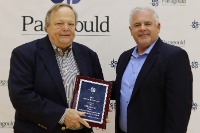 years to go before that is the case," Brewer joked during the awards ceremony. 
He graduated from Paragould High School and received a degree from Arkansas State University. Brewer succeeded his father as chairman of the board at First National Bank and now works alongside his son, Will, who serves as vice chairman.
At the bank, Brewer sets a tone for employees to serve their communities and customers with integrity and enthusiasm. "You know as an employee working for the Brewer family what the expectations are," said Vice President, Retail Banking/Marketing Blake Guinn. "They take great care of their staff, but in return they ask you to give 110% to your customers and your community. Without your community, there is no business. Bill has exemplified that philosophy."
First National Bank has served the Paragould community since 1889. The directors, officers, and staff would like to congratulate Mr. Brewer on  this much deserved honor.