Be "merry and bright!"
  Earn 1.00% Annual Percentage Yield in the 2020 Christmas Club Account.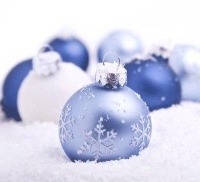 Open a Christmas Club account with just $10 or more.  
Come in to one of our
branches
to open  an account or you may open an account
online
!   
We recommend weekly or monthly automatic transfers from your FNB checking account. Automatic transfers are an easy way to let your Christmas Club account grow.  If your employer participates in our payroll deduction program, you may request withholding for deposit into your Christmas Club account.  
Each year, during the fourth week of October, Christmas Club members will receive a check in payment of the balance of their annual Christmas Club account, including the interest earned.
Terms and Conditions of the 2020 Christmas Club Account:
Monthly or Annual Fees: NONE
Early Withdrawal Fee: $10 per each early withdrawal
Interest will be paid at the end of the club plan which is generally the third week of October.
Interest will not be paid on a Christmas Club account if the account is closed prior to the end of the club plan. 
Two Christmas Club accounts may be opened per each household (or one per Tax ID number).
Truth in Savings Disclosure - Christmas Club Account 2020

This disclosure contains the rules which govern a 2020 Christmas Club deposit account. Unless it would be inconsistent to do so, words and phrases used in this disclosure should be construed so that the singular includes the plural and the plural includes the singular.
We reserve the right to, at any time, require not less than 7 days notice in writing before any withdrawal from an interest bearing account.
FIXED RATE - The interest rate for your account is 1.00% with an Annual Percentage Yield of 1.00%. We will pay this rate until October 20, 2020.  We will not decrease this rate unless we first give you at least 30 days notice in writing.
Frequency of Rate Change - Your initial interest rate will not change.
Minimum Balance Requirements - To open an account, you must deposit at least $10.00.
Compounding and Crediting - Frequency – Interest will not be compounded. Interest will be credited at the end of club plan.
Effect of closing an account– If you close your account before interest is credited, you will not receive the accrued interest.
Balance Computation Method - Daily Balance Method – We use the daily balance method to calculate the interest on your account. This method applies a daily periodic rate to the principal in the account each day.
Accrual of Interest on Non-Cash Deposits - Interest begins to accrue no later than the business day we receive credit for the deposit of non-cash items (for example, checks).
• $10.00 fee for each withdrawal before the end of the club year.
• No monthly service charge