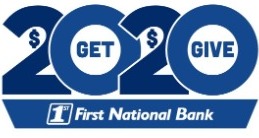 First National Bank has awarded more than $17,000 in donations to non-profit organizations across the country following the conclusion of it's Get $20, Give $20 checking account campaign.
          The program rewarded new deposit customers with a $20 incentive and allowed the customer to designate a 501(c)3 organization to receive a $20 donation from First National Bank. Customers were also allowed to defer their $20 incentive for a contribution totaling $40.
          On Tuesday, July 27, the bank awarded $5,680 to St. Jude Children's Research Hospital as the campaign's top donation recipient. The money will be directed to the hospital's "Up 'til Dawn" program, which strives end childhood cancer through awareness and support.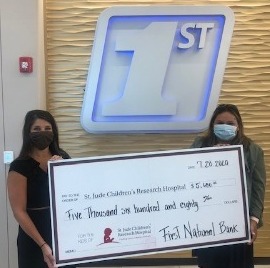 "When we started the incentive program in November 2019, we had no way of knowing what 2020 would hold, both good and bad," said First National Bank Chairman Bill Brewer. "We were thrilled to end the program on a high note, with $17,080 raised for more than 100 different non-profit organizations."
          The end of the program, March 31, was determined prior to the launch of the campaign, which began in November 2019. "We had no way of knowing when we launched (the Get $20, Give $20 campaign) that the end would be in the middle of a global pandemic," Brewer said. "I think looking back, we all feel very blessed that we were able to raise this money and send checks to these outstanding organizations during such a difficult time."
          First National Bank strives to return the support of the communities it serves. With 20 locations around the state of Arkansas, the organization prides itself on a signature "You 1st" style of banking. The Get $20, Give $20 program is an extension of that mindset.
          "This program did exactly what it was designed to do, give back to the organizations that benefit our communities," said Brewer. "The 'Get 20, Give 20' program embodies what we aim to do at First National Bank – put others first."
          A full list of organizations receiving contributions can be found by clicking here.